Brief Introduction of Dr. Anirban Biswas
Dr. Anirban Biswas practices in therapeutic and diagnostic neurotology in Kolkata, West Bengal, India.  
Neurotology 
is branch of medical science that deals with the diagnosis and treatment of 
vertigo 
(i.e. balance disorders), 
deafness 
(i.e. hearing disorders) and tinnitus (buzzing sound in the ears). He was the PRESIDENT of the
ASSOCIATION OF OTOLARYNGOLOGISTS of INDIA
for the year 2010-2011 and the PRESIDENT of the
NEUROTOLOGICAL and EQUILIBRIOMETRIC SOCIETY of India
  from 1999 to 2001.  Dr Anirban Biswas was the EDITOR of the
Indian Journal of Otolaryngology & Head and Neck surgery
(2000-2005) and was also a member of the editorial board of the
International Tinnitus Journal
published from USA. He was the VICE PRESIDENT of the
International Neurotological and Equilibriometric Society
and the PRESIDENT of the
Indian Academy of Otorhinolaryngology Head and Neck Surgery
. Currently he is the editor of the
Annals of Otology and Neurotology
which is the official scientific journal of the
Indian Society of Otology (ISO)
. Dr. Anirban Biswas has authored a number of books on the diagnosis and management of 
vertigo 
and 
deafness 
for postgraduate students and practitioners in ENT and Neurology. He is the recipient of two very prestigious international awards for his contribution to the subject of  neurotology…
Practices solely in therapeutic & diagnostic neurotology (vertigo & hearing disorders) since 1984.

Graduated from Calcutta Medical College in 1981.

Post graduation in ENT from same institution in 1984.

Ex-PRESIDENT of the ASSOCIATION OF OTOLARYNGOLOGISTS of INDIA (2009-2010)

Written 2 university approved text books on neurotology viz.-

(a) CLINICAL AUDIO-VESTIBULOMETRY- for otologists &  neurologists  (1st edition 1991,  2nd edition 1995, 3rd edition 2002, 4th edition 2009, 5th edition August 2016),

(b) An INTRODUCTION to NEUROTOLOGY (1st edition 1998, 2nd edition  2005)

Authored a book on patient education titled "Understanding Hearing Aids"

Authored – book titled "PHYSICAL THERAPY FOR BALANCE DISORDER PATIENTS" a complete book for patients with vertigo/imbalance demonstrating the different types of physical therapies like the Cawthrore Cooksey Exercises, Yogic Asanas and Taichi for restoration of dearranged balance function. There is one hour Video CD along with the book.

Authored a book titled "A HOLISTIC APPROACH TO BALANCE DISORDERS & ITS ETHICAL MANAGEMENT" which deals with the cognitive and psychological aspects of vertigo and imbalance and the current ethical management of balance disorders

Authored a book titled " VEMP-Vestibular Evoked Myogenic Potentials and other tests to evaluate Otolithic function"

Authored a book titled "VHIT – Video Head Impulse Test"

Authored a book titled "Contemporary HEARING AIDS and related devices- an otologist's perspective"  (1st edition 2015)

Authored an interactive software Audiovestibular Data Management Software (ADMS) for diagnosis & management of patients suffering from vertigo and /or deafness.  The software can document the history and clinical tests of the patients, can automatically generate reports for all related investigations like ENG, CCG, Puretone and Impedence Audiometry etc. and also diagnose and generate the relevant prescriptions.
Selected as member of BARANY SOCIETY for his contribution to the discipline of neurotology in 1997. This is the highest international academic recognition in neurotology.
Member of the Politzer Society
Received TATO-CLAUSSEN AWARD for EXTRAORDINARY ACHIEVEMENTS IN THE FIELD OF APPLIED NEUROOTOLOGY AND THERAPIES OF NEUROOTOLOGICAL DISORDERS – by the INTERNATIONAL NEUROTOLOGICAL and EQUILIBRIOMETRIC SOCIETY on 16th April 2010 in its 37th annual scientific conference held at Bad Kissingen, Germany.
Received the FRENZEL SAKATA AWARD from the International Neuroological & Equilibriometric Society at its 45th  annual conference at Kiev, Ukraine for acheivements in the fields of applied Neurotology and for contributing to the advancements of the International Neurotological and Equilibriometric Society

Awarded Fellowship of the Indian Academy of Otorhinolaryngology Head and Neck Surgery in 2018

Ex-President of the Neurotological and Equilibriometric Society of India (for 1999-2001).

Ex-Editor of the Indian Journal of Otolaryngology and Head and Neck Surgery (from January 2000 to December 2005).

Currently Editor of Annals of Otology and Neurotology, the scientific publication of the Indian Society of Otology

Contributed the chapters on neurotology in two undergraduate ENT text-books published in India and in many other books on neurotology.

Regularly contributes articles on neurotology (vertigo and deafness) in national and international medical journals.

Made several educational CDs on Vertigo related topics for updating / teaching medical personnel involved in the management of neurotological disorders.

Brought out many educational / instructional medical booklets related to vertigo like : Combating balance disorders, Migraine related vertigo, Ginkgobiloba etc.

Conducted pre-conference CME programmes on behalf of AOI and other national professional bodies like ISO, IAOHNS, ,Indian Academy of Neurology, IMA etc..

Delivered guest lectures and presented papers in national and international conferences on neurotology, neurology and ENT.

Regularly conducts workshops and seminars on vertigo and deafness in different  parts of the country and abroad including a yearly 4 day course on neurotology & medical audiology in Calcutta which is the learning ground for all budding neurotologists in this part of the world.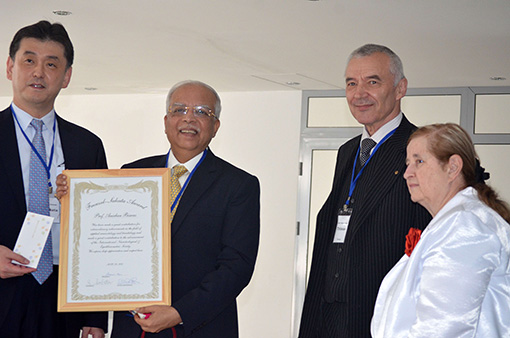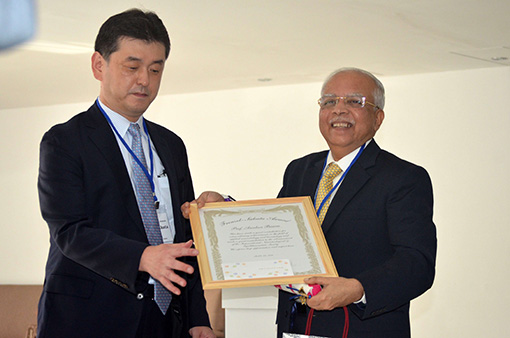 Receiving the FRENZEL-SAKATA AWARD 23rd May 2018 Kiev Ukraine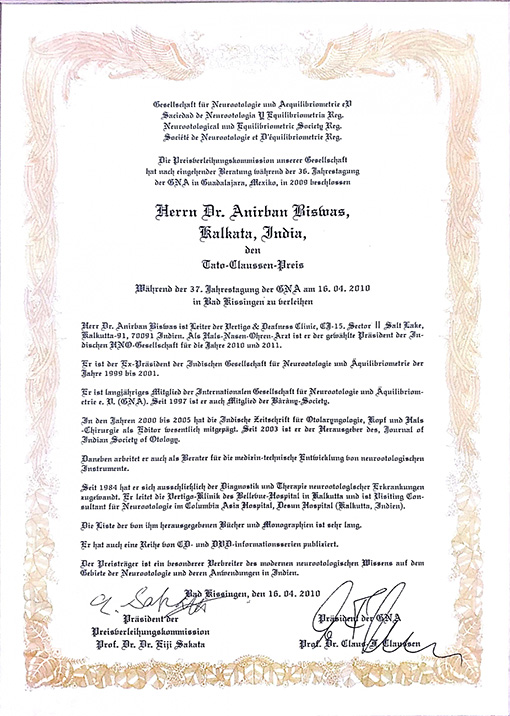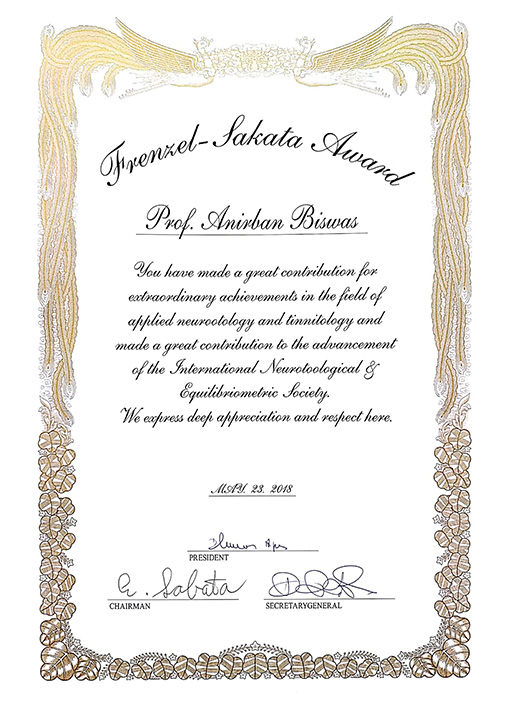 Dr. Anirban Biswas delivering the Keynote address at the 46th Annual conference of the International Neurotological and Equilibriometric  Society at Tokyo, Japan on 31st May 2019.

Dr. Anirban Biswas conducting a Instructional course on Post BPPV syndrome at Minsk, Belarus on 25th April 2019.

Dr. Anirban Biswas delivering a lecture on the symposion on Vestibular Physiotherapy at the 4th conference of Cwerigo Academy International at Minsk, Belarus on 27th April 2019